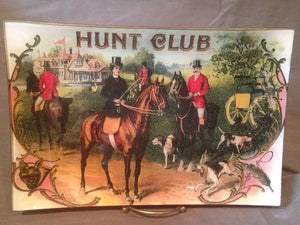 Tray Glass and Decoupage Serving Tray "Hunt Club"
Regular price $99.99 Sale
This new serving tray is glass with the image decoupaged to the back so that you can see it from the front. This tray shows a beautiful nostalgic image of hunting. With a lady sitting sidesaddle, she is surrounded by gentlemen hunters in their scarlet coats, hounds ready for the chase and a fox sitting elegantly in the upper corner. The tray measures 12" by 8", is signed by the artist, and is perfect for serving appetizers, sandwiches, desserts, whatever you want.  What a statement piece for a tailgate or to have in your box watching the races or the next chukka. If we are out of stock, just let us know you want one and we will order it right away. Hand wash only.